Meet the 2021-2022 SAROI Fellow Cohort!
We are thrilled to introduce the first cohort of SAROI Fellows, who will be in (virtual and physical) residence for 2021-2022. Our first group of eight fellows represent the many applications of spatial archaeology that can enhance humanities-oriented inquiries.

Brandi Bethke, Oklahoma Archaeological Survey
Dr. Brandi Bethke serves as Laboratory Director and Research Faculty at the Oklahoma Archeological Survey, University of Oklahoma. Her research focuses on interactions between humans, animals, and the landscape in the North American Plains from the late precontact period to the present day through the integration of zooarchaeology, ethnohistory, geospatial analysis, and theory and methods derived from Collaborative Indigenous Archaeology. She is especially interested in the responses of Native American communities to European contact and the long-term consequences of settler colonialism. Her SAROI fellowship project was developed collaboratively with the Wichita and Affiliated Tribes and will utilize a combination of ethnography, archival research, and low-impact archaeological recording methods (non-collection survey, 3D-modeling and photogrammetry, geospatial mapping, geophysics, and small, targeted excavations) to record late nineteenth and early twentieth century farmsteads, camps, and dance grounds on allotted lands near Anadarko, Oklahoma. These places were and continue to be significant to the community and are critical for documenting how the Wichita people countered land-based assimilation efforts through the maintenance, creation, and adaption of their own community gathering spaces during the Allotment period.

Kaitlyn Davis, University of Colorado-Boulder and United States Forest Service
Kaitlyn Davis is a Registered Professional Archaeologist and doctoral candidate in archaeology at the University of Colorado, Boulder. Kaitlyn is interested in interaction processes and changes in land use over time in the Pueblo Southwest. She earned her MA in anthropology (archaeology) from the University of Colorado and her BA in anthropology and environmental science from the University of Notre Dame. She also recently began an archaeology position with the US Forest Service in May 2021. Her SAROI project is an extension of her dissertation research and involves collecting and using infrared data to assess the heat-retaining properties and continued utility of Ancestral Pueblo agricultural fields. As part of her efforts to make archaeological and geospatial data more accessible to stakeholders and the public, she also will be working on developing StoryMaps.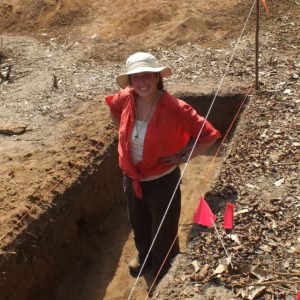 Kelly Goldberg, University of South Carolina
Dr. Kelly Goldberg is an Instructor of Anthropology for the Honors College at the University of South Carolina. As an anthropological archaeologist, she has worked at African Diaspora sites on both sides of the Atlantic. Engaging multidisciplinary approaches through a community archaeology framework, her research focuses on the role of transnationalism in the continuation of the transatlantic slave trade and the manifestation of contemporary memory and heritage politics at sites of threatened and contested heritage. As an SAROI Fellow, Kelly will further develop her public archaeology approach by receiving guided training and mentorship in the use of digital heritage and visualization methodologies, as well as aerial imagery and geophysical techniques. She will be able to incorporate these technologies in her current projects with the United States National Park Service, as well as in future initiatives in West Africa, to engage and incorporate a more diverse stakeholder group in archaeological research.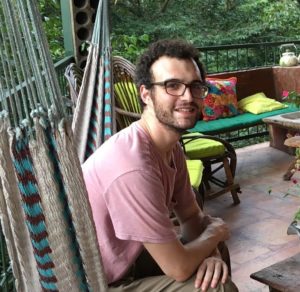 Graham Goodwin, University of California-Merced
Graham Goodwin is currently a PhD student in the Interdisciplinary Humanities group at University of California-Merced studying under Nicola Lercari. His research interests focus on exploring sensory and bodily experiences in the past through digital methodologies such as Geographic Information Systems (GIS), Virtual Reality (VR), and 3D modeling supplemented by phenomenological description. He plans to use these digital methodologies such as airborne Light Detection and Ranging (LiDAR), digital photogrammetry, and Geographic Information Systems (GIS) to capture and analyze new geospatial datasets describing archaeological landscapes. His goal is to identify spatial patterns within urban spaces at the ancient Maya city of Palenque and examine whether and how these spatial relationships shaped a population's experiences in antiquity. His methods to approach this question utilize different geospatial methodologies to analyze patterns of movement, visibility, and sound propagation so that the bodily experience of past people can be better understood. To achieve a more humanistic understanding of the past, phenomenological and embodied descriptions of sites, landscapes, and artifacts will be used to enhance objective and empirical digital methodologies.

Kristin Landau, Alma College
As an archaeologist, Dr. Kristin Landau have worked in collaboration with local communities in the ancient Maya area of western Honduras for 15 years. Specifically, Kristin is interested in how ancient people living in urban neighborhoods managed their day-to-day lives in response to citywide political and economic dynamics. As a SAROI Fellow, she will investigate the site of Los Sapos (The Toads), a unique ritual area with carved aquatic creatures located in the San Lucas neighborhood of the UNESCO World Heritage Site of Copán. Kristin will work with Indigenous youth and Honduran authorities to conduct the first 3D scan of Los Sapos using TLS/Photogrammetry, and create a publicly-accessible website of the resulting imagery.

Brandi L. MacDonald, Missouri University Research Reactor and University of Missouri-Columbia
Dr. Brandi MacDonald an Assistant Research Professor at the Archaeometry Lab at MURR, an Executive Officer at the Society for Archaeological Sciences, and a managing editor at the journal Archaeometry. Brandi's expertise is in provenance studies and analytical chemistry in archaeological sciences, with a longstanding interest in rock art and mineral pigments. Her SAROI fellowship will enable me to get guided mentorship on 3D modeling and image processing for digital reconstructions of rock art and the landscapes/formations in which it is situated. This skill set will enhance an ongoing collaborative project on rock art documentation and pigment analysis with Lake Babine Nation (British Columbia, Canada), under the aegis of the Babine Archaeology Project with collaborator Dr. Farid Rahemtulla (U of Northern BC).

Joshua Robinson, Boston University
Dr. Josh Robinson is a paleoanthropologist and Paleolithic archaeologist interested in the paleoecology of Plio-Pleistocene migration and mixing corridors in eastern and southern Africa. Using quantitative paleoenvironmental methods, including stable isotope analysis of fossil faunal tooth enamel and paleosol carbonates, he studies the transition from the Middle to the Later Stone Age. This is a critical period of human evolution during which various populations of Homo sapiens, as well as other transitional or archaic hominins, exchanged genes, ideas, and technology. As a SAROI fellow, Josh's aim is to create and leverage high-resolution ecological and terrain datasets in geospatial environments for investigating the potential for relationships and interactions of different populations on the landscape. By gaining insight into the where, when, and how of connections between different populations in the late Pleistocene, we can develop a deeper understanding of what it means to be human.

Camille Westmont, University of the South
Dr. Camille Westmont is currently the Postdoctoral Fellow in Historical Archaeology at the University of the South in Sewanee, Tennessee. She received her doctorate in anthropology with a specialization in historical archaeology in 2019 from the University of Maryland. She also holds a Masters of Historic Preservation. Camille's research interests center around 18th, 19th, and 20th century industrial communities and industrial landscapes. While the majority of her work has been carried out in the context of the US coal mining industry, she has also worked on similar topics in Iceland, Sweden, and Jamaica. As a SAROI fellow, she will be exploring the ways that the design of industrial landscapes shape workers' sense of self. Specifically, Dr. Westmont will be applying spatial techniques and analyses to the Lone Rock Stockade, a late 19th century private prison used to house primarily African American convict laborers as part of the American South's postbellum convict leasing system. This work brings together scientific perspectives on landscapes with humanistic evaluations of control, race, identity, resistance, and movement in order to provide more holistic understandings of people's relationships with the spaces with inhabit.